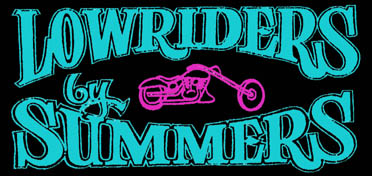 .
Parts.
.
Exhaust Baffles
These are baffles intended for 1.5" exhaust pipes or drag pipes. They measure approximately 1.40" at the largest diameter. You will need a 1/4' hole in each pipe to secure these. Due to varying dimensions of pipe stock, you may have to slightly take some material off to install in some pipes. Be sure to measure the inside diameter of your pipe to make sure these will fit. These will also work for 1 5/8" pipes as well. They will be a bit loose, of course, but when you tighten the bolt they will be securely in place. In that case some exhaust will escape around the edges of the baffle, but they will still baffle the sound. Baffles these small are getting harder and harder to find, because most are made for HDs and most use 1 3/4 and larger pipes.
A set of 4 to fit Honda 750s/ 500s, 550s or any 4 cylinder bikes that they will fit into: $20 for a set.
A set of 2 to fit Yamaha XS650s, Honda 350s/ 450s/ or any 2 cylinder bike that they will fit into: $10 for a pair.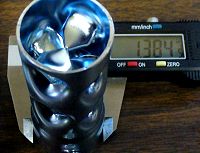 .
REPLACEMENT TOP TRIPLE TREE
Price: $175 Chromed, $150 polished, $100 unpolished
SERIES 1: 69-76 K MODEL 750
SERIES 2: 77-78 K HONDA 750
SERIES 2: 75-78 F MODEL 750

Billet aluminum replacement for 69-78 F & K models allows the use of the many one piece handlebars available as well as cleans up the top area of the forks. Secured by recessed allen head bolts.
.
.
CHROME FORK BOOT COVERS FOR 69-76K, 75-76F HONDA 750s
Price: $25 Per Pair
Replacement Rubber Boots: $10 Per Pair

These slip over the rubber boots on top of your lower fork legs and add a nice touch of chrome to your forks, especially if you have chrome lower legs. A slight amount of trimming might have to be done to your rubber boots, but usually these slip right over. We have replacement rubber boots available as well.
.
.
CHROME SMOOTH EXHAUST CLAMPS FOR HONDA 750s
Price $40 for a set of 4

.
Replace those ugly, crusty, "never get tight enough" clamps that came stock.These fit 69-76 K model Honda CB 750s or other years with the early spigots installed.


You will need 4 of these on your head to use these clamps.
.
<![if !vml]><![endif]>

CHROME 5-OHM COILS W/WIRES AND CAPS
Price $90 PR.

.
Dual outlet chrome 5 ohm coils with bracket, black wires and plug caps for custom application designed to use with points type ignition
..
SPARK PLUG WIRES AND CAPS
Price $30

These are the longer 120 degree and straight caps needed for the CB750 SOHC motors that have deep plug wells.

4 wterproof NGK spark plug caps - $20
8 feet 7mm solid core wire - $10
Additional 7mm wire available - $1 per foot
For coils that don't have the screw on coil caps you'll need these ends.
4 coil ends and 4 rubber boots - $10
.
..
..
Oil Line Adapter Kit
Kit as shown includes oil lines up to 21" and chrome fittings: $150
Adapter Plate Only $40
69-78 SOHC HONDA 750

.
This kit will allow you to adapt your bulky, ugly stock oil lines to 3/8 braided steel lines with chrome fittings for a much cleaner, better look. This will also allow you to use whatever length lines needed. You can buy the adapter plate individually and use any type of line and fittings you prefer as well. This kit is attached using your stock bolts and o-rings.
.
STEERING STEM BEARINGS
Price $45

.
Do you hate the sloppy ball bearings in the stock 750? This is the perfect upgrade to tighten that 30 year old front end.
.
CHROME STAMPED STEEL CLUTCH LEVER ASSEMBLY
Price $65

.
Beautiful chromed Barnett clutch lever assembly. Included is the adaptor to convert it to the stock type clutch cables from Honda and Kawasaki as well as others. Specify 7/8" or 1" handlebars.
.
CHROME SINGLE CABLE THROTTLE WITH GRIPS
Price $35

.
Nicely chromed single cable throttle assembly. Includes a set of hard rubber grips with the throttle assembly. These come tapped to fit 750 Honda and 900/1000 Kawasaki pull throttle cables. Specify 7/8" or 1" handlebars.
.
CHROME MIRROR MOUNT
Price $15

.
Beautifully chromed mirror mount that allows you to use the mast type mount (non threaded) like the ones that are designed for HDs. This allows a huge variety of mirrors to choose from. 7/8" models include a spacer to convert to 7/8 handle bars. Specify 7/8" or 1" handlebars.
.
.
SMALL GAS PETCOCKS
Price $15

.
These have 1/4NPT fittings and will work with 1/4 or 5/16 gas line . These do not have a reserve . The red handle can be removed for an all metal look.
.
.
Chrome Oil tank and electrics box combo

You can save money by buying these parts as a package price listed below, However, due to the many different possibilities of mounting these components to suit your needs, you will need to drill and fit them as your project needs them.. Some frames may require the rectifier/ regulator to be mounted on the opposite side for chain clearance and some may want the key switch on the other side as well.. However the necessary bolts and spacers are be included.
INCLUDES:
RECTIFIER REGULATOR:......................................................
3.5 QUART CHROME OIL TANK: ..........................................
BATTERY TRAY BRACKET AND ADAPTER:............................
AUTOMOTIVE TYPE IGNITION SWITCH WITH SPACER:......
TOTAL PRICE INDIVIDUALY:................................................
SPECIAL PACKAGE PRICE:...................................................$350
| | | |
| --- | --- | --- |
| Tray and IGN installed | Tray, Battery, and IGN installed | Reg/Rec installed (bottom) |
.
RECTIFIER/ REGULATOR COMBO
Price $90

.
This replaces those two ugly units on a 750 from the factory. There are a few types around, but I've found these to be the best available. Avoid the generic units and you'll avoid the smell of smoke . This can be mounted free standing and look good .. or inside of a ventilated electric box ...Other models available as well.
.
BARNETT CLUTCH KITS AND PARTS

750 HONDA FIBER DISC PACK..............$80 (set)
750 HONDA STEEL DISCS (6):...............$40 (set)
750 HONDA HEAVY DUTY SPRINGS:....$20 (set)

.
I've used Barnett clutches for over 35 years now and found them to be the best all around setup for any motorcycle. Others make their claims, but Barnett's been here since time began with a super product that leads the market today. Don't be fooled by the lesser brands. Contact us for other models available at rock bottom prices.
.
2" FORK LOWERING KIT
Price $10 Pair

.
These will lower the front forks of 71-78 Honda CB 750s as well as 73-80 Kawasaki KZ 900 and KZ 1000s. They will very possibly fit other models as well. Disassemble your forks and use these spacers over the inner dampening tube at the bottom of the forks. Then trim 2" off of each fork spring to compensate for the spacers, reassemble and add fork oil. This kit includes 2 aluminum spacers. The dampening tube and spring displayed simply show you how they fit. Made of aluminum.
.
.
What Part Do You Need???? Just because you don't see it on this page doesn't mean Tommy can't get the part.
.
Tom has supplied the Honda Chopper Community, and others, with every part from seats, gas tanks, shocks, ect.
.
If you can find it Tommy can get it and probably cheaper. Don't forget, just like with all of Tom's parts, The price isn't the selling point. Ask any person that has bought parts from Tom why they go to him and they will tell you,
Service is what Tom Provides. If you don't know if a part will fit... Tom will.
.
SO..... if you need ANY part, piece, or component for a honda chopper.... Shoot Tom an email
.
EMAIL tommy@lowridersbysummers.com
.
.
.