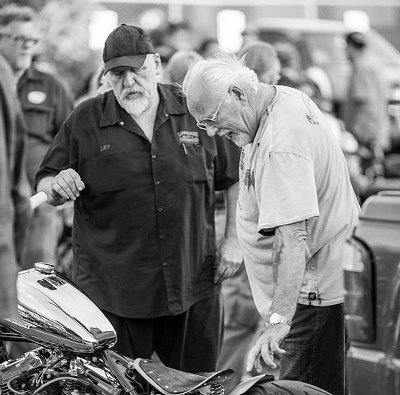 Talkin' With Tommy

.
Over a span of the past 35 years or so, I've used and accumulated a few ideas to use in various areas of my builds. Some of these I've come up with myself but many I've seen used on other bikes along the way. Most are fairly simple and can be done by any basic builder. However some might require help from a local professional. The idea of this page is to share these with you guys as well as keep you abreast of some new or different things that are available to you and the guys that do them. I plan to make additions on a somewhat regular basis, so stay tuned and lets see what I come up with... LRT..

If you have any questions about any of this, feel free to email me to ask. Just use the link at the bottom of any of these pages and I'll get back with you ASAP. Also, if you haven't yet, feel free to check the rest of my website out by using the buttons at the bottom of the page. I'll be adding things as time permits, and if you see someting I've done on one of my bikes feel free to ask me about it. Who knows, it might end up as yet another article here in "Talkin' With Tommy"!

---
Plug Wire Routing
---
Cleaning up the rear brake hub.
---
Detailing stock brake rotors
---
Smooth motor covers
---
Counter sunk allen bolts
---
Closing a Tank Gap
---
Trimming the Motor Side Covers
---
Smooth Valve Caps
---
Adapting a Sport Bike Rear Wheel
---
Making the Competition Nervious
---
Oil Tank Battery Adapter
---
Chrome Spin On Oil Filter
---
Setting Up The Breadbox
---
The Day I Met Ron Finch in Dallas
---
Chevy Valve Cover Coil Box
---
Shaping The Cylinder and Cylinder Head
---
Lowering the 750 with Harley short shocks
---
Flat Top Cam Cover-Breather Cover
---
Smooth Clamps for the Later Model 2 Bolt Flanges
---
Lowering the throttle cable mount
---
Basic Wiring Tips
---
Button Head Fork Stops
---
Custom Seat Mounts
---